About The Show
Atlantic Canada's largest home show features a wide range of exhibitors, with everything from basic home improvements and maintenance projects to major renovations and new construction. From kitchen and bathroom, to living room and home décor, get inspired for your next project here. Don't miss Atlantic Canada's ultimate showcase for indoor and outdoor living.
Clean Energy Spotlight – NEW for 2023!
This year, the Nova Scotia Spring Ideal Home Show will include a Clean Energy Spotlight for visitors to learn how to save money and become more energy efficient. This event will bring together everything from electric vehicles and bikes, solar panels, smart home automation systems, energy efficient heat pumps and more.
Stay tuned for more information!
ADMISSION PRICES
Adult: $11.00
Senior: $9.00
18 and under: FREE when accompanied by an adult
FRIDAY MORNING SPECIAL: 50% OFF REGULAR ADMISSION FROM 10:00AM to 1:00PM
DATE, TIME & LOCATION
Friday, March 24
10:00 am – 8:00 pm
Saturday, March 25
10:00 am – 6:00 pm
Sunday, March 26
10:00 am – 4:00 pm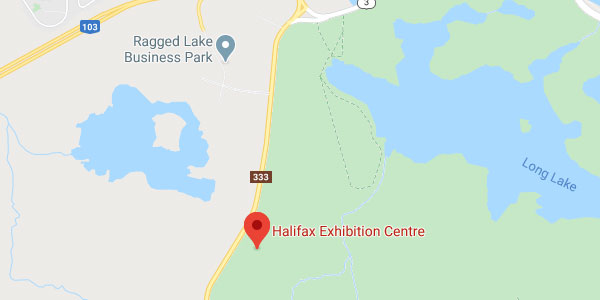 Halifax Exhibition Centre
200 Prospect Road
Halifax, NS
B3T 1P2
(902) 876-1811
2022 Exhibitor List
A Buyer's Choice Home Inspection
Aa Munro Insurance
Access Acupuncture
Aerus
Allstate Insurance Co of Canada
Amerispec Inspections
Appliance Maritimes
Aquaclean
Atlantic Asphalt Protection/East
Atlantic Canadian Dachshund Rescue
Atlantic Roll Forming Inc.
Back To Health Chiropractic & Wellness
Bath Fitter
Beaini & Associates Engineers Ltd.
Beautiful Baths Renovations
Bell
Best Green Turf Ltd
Billyard Insurance Group
Bird Stairs
Bni Maritimes Inc
Breathe Clean Ductless Heat Pump
Budget Blinds of Halifax
Bushwhacker
Cabinetworks Ltd
Canada's Local Gardener
Canadian College of Acupuncture
Canadian Spa Company
Cherokee
City Wide Communications
Clean Foundation (Home Warming)
Clear Space Painting
Colonial Manufacturing Ltd
Condor Electric
CRC RV Centre
Dartmouth Memorial Gardens
Diamond Water Treatment Serivices Limite
Eagle
Eagle HT
East Coast Chocolate Company
East Coast Countertops
East Coast Paving
Eastern Water Prevention Ltd.
Easyhome
Economical Renovations Inc.
Efficiency Nova Scotia
Elite Trade Painting
Elite Window Cleaning
Enviro-Step Technologies Inc.
Evolution Water Testing & Treatment
Exit Real Estate Professionals
Family SOS (Donated by Frank Dorrington Consulting Roofing)
Frank Lush Glass Limited
Genesis Chiropractic & Wellness Centre
Gingersgrater
Gotcha Covered
Grey Wolf
Ground Hog Geothermal & Heat Pump Ltd
H2N0 Coatings
Halifax Kubota
Halifax Solid Waste Resources
Homesol Building Solutions
Hospice Halifax
Hot Tub Universe
Ibex
Iron Wind Marine
Indoor Energy Solutions
Integraspec Insulated Concrete Forms
Jay Feather
Jay Feather Micro
Jay Flight SLX
Jay Flight
Jl Dufour Roofing Services Ltd
Karma Spa
Kevin Campbell Electric (Generac)
L S Bilodeau Inc
Leanne Penney-Epicure
Leisure Days RV Centre
Leisure Landscape Lighting
Liberty Security
Macphee's Landscaping Services
Maple Leaf Homes (Tag Patterson Homes)
Maritime Curbing Limited
Maritime Permanent Roofing Ltd
Metal Roof Specialties Inc
Mortgage Alliance/Primerica
Munn Insurance
NS Spca
Nova Scotia Department of Labour, Skills and Immigration
Nova Scotia Ground Water Association
Nova Scotia Home Designers Association
Nova Scotia Power Inc
Oes Wellness Group Inc
Old Hickory Buildings of Halifax
Performance Welding
Perma Steel Roofing
Presidential Ventilation Systems
Re/Max Nova
Realm Design
Rydel Roofing
Sarty Siding & Windows Ltd
Scotia Hvac
Scotia Metal Products
Shelter Movers Nova Scotia
Solar Ascent
Solar Nova Scotia Society
Solution Ideale
Spray-Net Inc
Still Fired Distilleries
Tate Engineering Inc
Telus
The Cake Lady
The Dog Ate It
The Forever Roof Inc
The Gardener Halifax
The Home Depot
The Water Shed Water Conditioning Ltd
Totally Electric Limited
Trinity Energy Group
Underground Irrigation Systems
University First Class Painters
Uoma-Atlantic
Urbanworx Contracting
Venmar Ventilation ULC
Vintage Stove & Fireplace Ltd
Waste Water Nova Scotia
Wolf Pup
White Hawk
Xpress Painting/Renoworx