About The Show
Mark your calendars for next spring's must-attend event at the Halifax Exhibition Centre - the Nova Scotia Spring Ideal Home Show. As Atlantic Canada's ultimate showcase for indoor and outdoor living, it's the perfect platform to connect with an engaged audience of homeowners, buyers, renovators, DIYers, and more.
With attendees arriving with specific renovation and home project plans in mind, you'll have the opportunity to engage with an audience actively seeking inspiration and incredible deals to turn their house into a home. In fact, our research shows that up to 80 percent of attendees are planning to renovate their homes within the next 12 months. This is your chance to showcase your products to serious buyers who are ready to invest in their dream spaces. Get ready to make meaningful connections, showcase your expertise, and elevate your business to new heights!
EXHIBIT PACKAGE & PRICING
EXHIBIT LIKE A PRO
Our booth packages will make you look every part the industry leader that you are. Our all-inclusive exhibitor package includes:
Back & sidewall drapery

Aisle carpeting

Booth carpeting

Daily booth vacuuming

Container storage

Forklift services to and from your booth (up to 5,000 lbs.)

Exhibitor badges

Free parking
 PRICING: $13.00/SQ. FT. (100 sq. ft. minimum)
Book Space
To fax or email your Space Rental Contract, please click the "Download Contract" button to get a copy of the contract then send it in to us using the information on the form. To fill out the Space Rental Contract online, please click the "Book Online" button.
DATE, TIME & LOCATION
Friday, March 22
10:00 am – 8:00 pm
Saturday, March 23
10:00 am – 6:00 pm
Sunday, March 24
10:00 am – 4:00 pm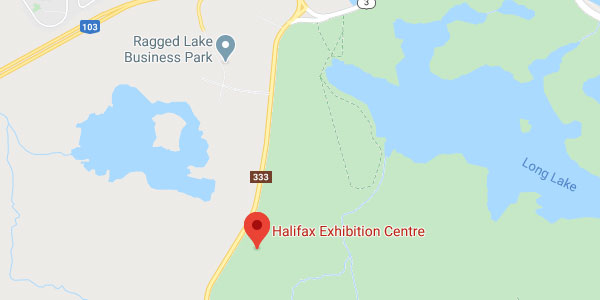 Halifax Exhibition Centre
200 Prospect Road
Halifax, NS
B3T 1P2
(902) 876-1811
2024 Exhibitor List
1st Electric Inc.
270 West Consulting
Adjust to Wellness Family Chiropractic
Allstate Insurance Co of Canada
Altantic Used Oil Management
Arbor Memorial Inc
Arctic Energy Solutions
Arctic Spas
Atlantic Vacuflo
Atlantiic Canadian Dachshund Rescue
Aztek Solar Ltd
Back to Health Chiropractic & Wellness
Banfield Electric and Contracting Ltd
Bath Fitter
Beaini & Assoc Engineers Ltd
Bedford Appliance Warehouse
Best Green Turf Ltd
Better Business Bureau Atlantic
Bird Stairs
Breathe Clean Ductless Heat Pump
Brokerlink
Cabinetworks Ltd
Carbondale Construction
City Wide Communications
Condor Electric
Cracked Armour Gear
Deep Down Cleaning Services Ltd.
East Coast Chocolate Company
East Coast Vapor Blasting Inc
Eastlink
Economical Renovations Inc
Edward Jones
Efficiency Nova Scotia
Elite Trade Painting
Environmental Health Canada Program
Epicure with Leanne Penney
Evolution Water Testing & Treatment
Exit Real Estate Professionals
Form Solutions
Fully Promoted Halifax and Dartmouth
Garage Floors 4 Less
Gingergrator
Ground Hog Geothermal & Heat Pump Ltd
Habermehl Contracting
Halifax Distilling Co.
Halifax Heat Pump
Halifax Regional Municipality
Halifax Solid Waste Resources
Happy Harry's
Hickory Dickory Decks
Home Depot
Homesol Building Solutions
Hot Tub Universe
HRM - Emergency Management Division
Integraspec Insulated Concrete Forms
Interhabs Ltd
Iron Spaces Ltd
Irving Energy
Ken Purdy Real Estate - EXIT Realty Metro
Kent Building Supplies
KItchen Spot Ltd.
LeafFilter Gutter Protection
LJ Patterson Sales & Service
Lumbermart Installations
Maritime Curbing Limited
Maritime Permanent Roofing Ltd
Mechanical Flood Protection
Mortgage Alliance
Munn Insurance
Northern Seamless Gutters
Nova Scotia Clean Air Services
Nova Scotia Ground Water Association
Nova Scotia Power
Nu Skin
Nurple Sauce Co
Oceans of Opportunity Painting Co.
Old Hickory of Halifax
Pine City
Pop-Up Lockers
Presidential Ventilation Systems
Quest Kitchens
Quinn Energy
RE/MAX Nova
Ready Refridgeration
Realm Design
Ridgeback Basement Systems Ltd.
Road Armour
Rydel Roofing
Saltwinds Coffee Company
Sarty Siding & Windows Ltd
Sasco Products
Scotia Screen Rooms
Seagull Cabinets
Simply The Best Private Chef
Still Fired Distilleries
Sun Kissed Energy
Sunspace by NuBuild Inc
Supreme Homes
Sweep Clean Inc.
Tate Engineering Inc
Taylor Flooring
TD
Techno Metal Post HRM and the Valley
The Breath Factory
The Cake Lady Inc
The Dog Ate It
The Forever Roof Inc
The Hidden Gallery of Rocklin Nova Scotia
The Real Estate Team - Exit Metro
The Scotsman Custom Millwork
Totally Electric Limited
Trinity Energy Group
University First Class Painters
Vintage Stove & Fireplace Ltd
Wadden Electric
Walls Metal Roofing Inc
Xpress Painting/Renoworx